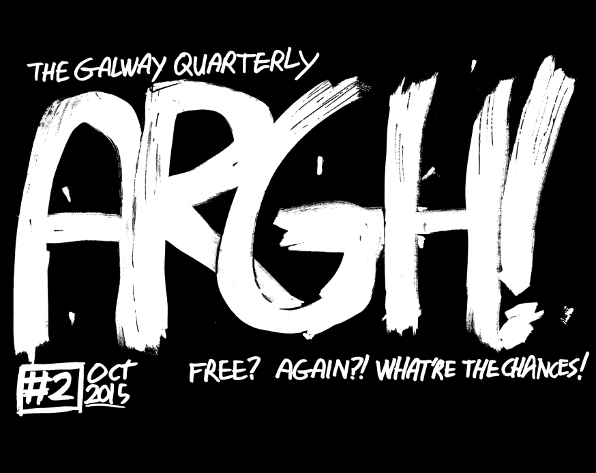 The Galway ARGH #2
The Galway Argh's Facebook
GalwayArgh@gmail.com
------------------------------------------------------
ARGH! is a short comics anthology put together by a group of Galway based artists, writers and terrible hybrids of the two.
------------------------------------------------------
About the authors
BRIAN NAUGHTON:
Discovered what true hell was last week, did not commit it to memory. Still makes comics.
SEAN GORMAN:
Sean makes music and laughs and loves you more than she ever could.
DARREN COLEMAN:
Leaves the comfort of his nest to explore the strange world of social interaction. Don't make any sudden movements or he may scurry away.
LIAM NAUGHTON:
"This dad's got style" – Onlooker
"He is also very good at making comics" – Another Person
JOSHUA KEANE:
Explorer in the furthest regions of experience. An angel to some a demon to others. Likes: Comics (sometimes), Camus (always), feeling sick (most of the time). Dislikes: Coffee (never), Pain (sometimes), feeling sick (now and then).
JONATHAN CREANE:
Another person from Mayo who plays music and is considerate enough to enter your home quietly as to not wake you up. Ah, isn't that nice..
JASON DEVERS:
The Renaissance on two wheels. And a beverage man at heart.
CÍARA CURRAN:
Eats only organic, gluten & dairy free ice-cubes for breakfast, lunch and dinner to fuel your feminist powers.